Jessica Price Gave Birth At Kohl's And Left Newborn In Trash To Die: Police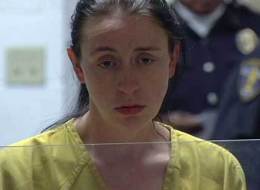 A Kentucky woman who gave birth at a Kohl's and left her newborn baby in the trash to die told police that she thought she had miscarried.
Jessica Price faces charges of murder
, abuse of a corpse and tampering with physical evidence after she allegedly gave birth in a bathroom stall while at work and then put her newborn in a trash bag in August.
In footage of a police interview Aug. 8 obtained by NBC affiliate WAVE, Price said she thought she had miscarried because her daughter had stopped kicking the morning of the incident. After the baby girl was delivered, Price said she held her for a few minutes but she did not appear responsive.
"I had my period the entire time," Price said in the footage. "I have had a miscarriage before and it did the same thing. I just was home at the time when I lost the baby last time."
Price told police she only learned that she was pregnant about a month before her delivery. She did not explain why she failed to seek medical treatment.
"
We believe the baby was born alive
and would be alive today if she had provided basic care for the baby," Louisville police Lt. Todd Kessinger told WLKY in August, when charges were brought against Price. The baby was discovered by another Kohl's worker, he said at the time.