Posted:
10/20/2013 10:32 am EDT
| Updated:
10/21/2013 12:12 pm EDT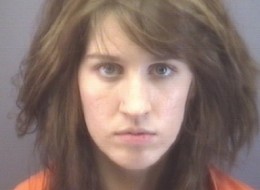 A young mother in Berne, Ind., was arrested on child neglect and attempted murder charges after police say she allegedly stuffed a sock in her baby's mouth and left him face down in a closet to die last week.
According to police, on Oct. 13, Sasha Hunt, 22,
placed a sock over the mouth of her 3-month-old son
and wrapped tape around his head to keep the sock in place. Hunt then wrapped the infant in a blanket, put him face down on a pillow, and shut the baby inside a closet.
Hunt's husband discovered the baby after hearing muffled cries and saved his life.
WANE.com
reports that he gave his wife, who has bipolar disorder, an ultimatum -- either go to the hospital or the police. After Hunt checked into the hospital, the husband and his mother went to the police to report the incident.
The
News-Sentinel
reports that Hunt had been on medication for her disorder, but had stopped taking her meds while pregnant. According to the newspaper, there had been other trouble at home recently.
Hunt's husband told police that his wife had previously handled the child roughly. According to police, when the husband had questioned Hunt about bruises on the baby, she allegedly told him that she hated the baby and wished it had never been born.
Hunt was arrested Wednesday on charges of child neglect and attempted murder. Police ordered a
non-voluntary committal
to Behavior Health at Adams Memorial Hospital for the accused mother after obtaining evidence from her home.