Hearing in case of woman convicted with her husband Mick of killing her six children in a Derby house fire was broadcast on TV
Despite losing the first round of her attempt to challenge the length of her sentence, her lawyers succeeded in making a renewed application.
The new lord chief justice, Lord Thomas, who is keen to take appeal court sittings outside London, was one of three judges on the bench.
Announcing the court's decision, Thomas said that although Mairead Philpott was under the control of her domineering husband, she was on occasions capable of standing up to him. She had, however, chosen to support his plan to set fire to the house and blame it on her husband's former mistress.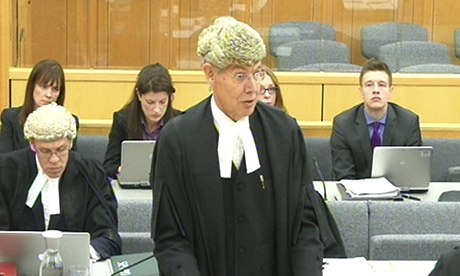 "This was not a spur of the moment plan," Thomas said. "It was one that had been carefully and deliberately thought out. The risks of pouring petrol inside a building and setting it alight must have been obvious. Her children were upstairs. She actually participated in setting the fire."
Mick Philpott was jailed for life with a minimum term of 15 years after being branded a "disturbingly dangerous" man.
The broadcast was cut short after the decision upholding her sentence was announced, when applause and clapping erupted in court.
Before the hearing the courts minister, Shailesh Vara, said: "This is another landmark day for justice. For the first time cameras will be able to live broadcast a court hearing outside of London.
"Justice must be seen to be done and today marks another important step towards opening up the court process to bring justice closer to the public.
"However, we will always balance the need to make the justice system more accessible with the needs of victims and witnesses. That is why we will ensure that throughout the court process, they will not be filmed."