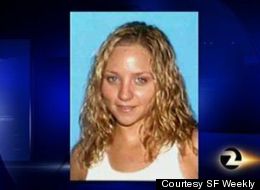 Monica McCarrick, a 29-year-old mom on meth, will be in prison for life after a jury decided she was completely sane when she killed her twin daughters with a samurai sword back in October 2010.
KTVU reports
that McCarrick, a Fairfield resident, tried to say she was innocent because she was insane when she slashed her 3-year-old twins, Tori and Lily Ball. McCarrick allegedly tried to commit suicide after the slayings by cutting herself and setting her third-floor apartment on fire.
When police arrived, they found the twins with multiple stab wounds in the doorway of the burning apartment.
Despite the fact that three doctors testified that she was legally insane on the night of the murders, prosecutors convinced jurors otherwise after detailing McCarrick's meth habits.
McCarrick admitted to psychologists that she used meth on a daily basis for years, and as recently three days prior to the killings. State law says you don't qualify for the insanity plea if you were under the influence of drugs or alcohol when the crime was committed.